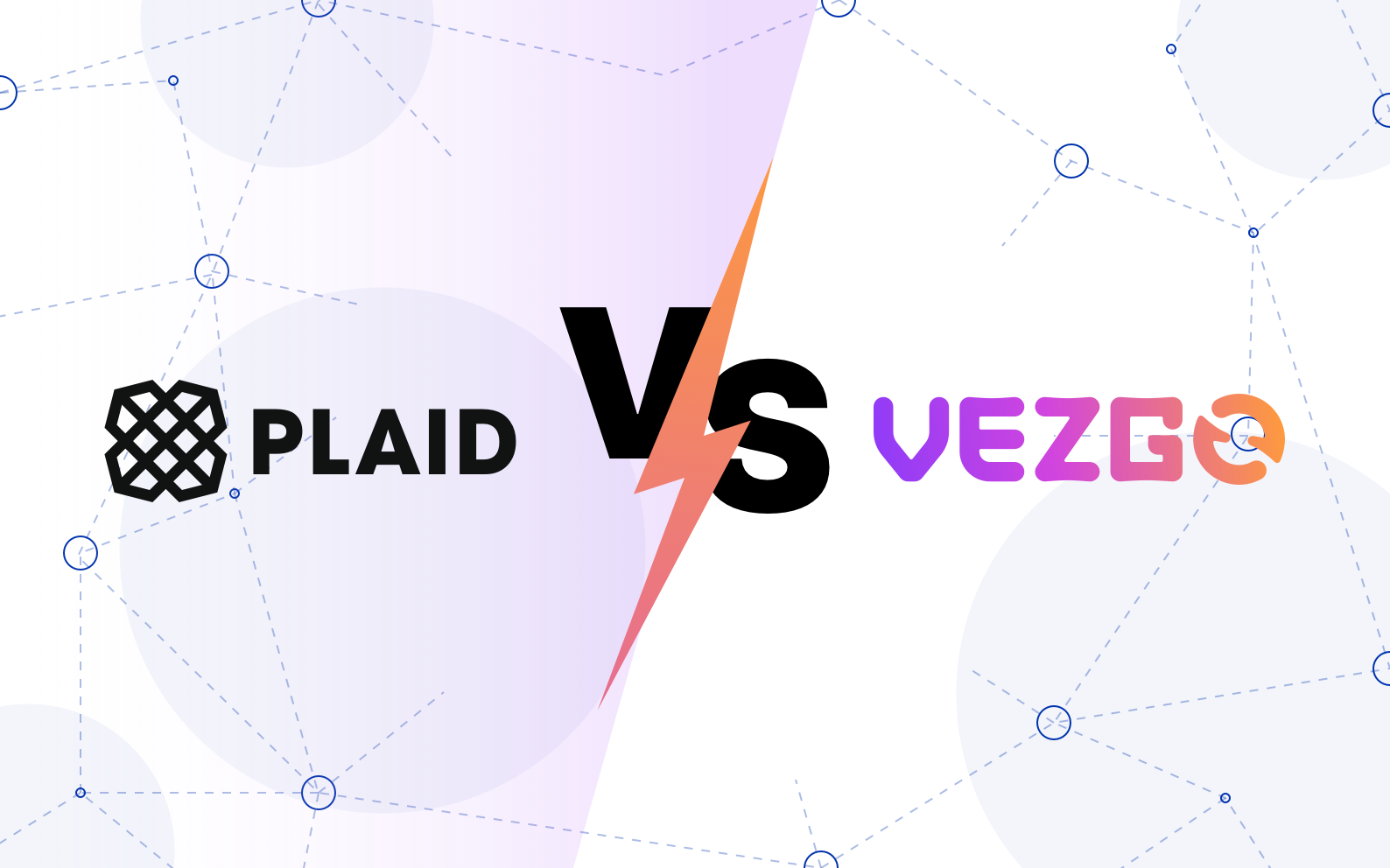 The rise of cryptocurrencies has undoubtedly sparked a revolution in the financial landscape with new solutions like Vezgo and Plaid crypto APIs. As digital assets become more deeply intertwined with global financial networks, the need for seamless integration of crypto into an array of apps and services is more apparent than ever.
In response, companies have emerged that offer robust Application Programming Interfaces (APIs) to bridge the gap between crypto assets and traditional and emerging financial services.
Two key players in this space, Vezgo and Plaid, stand at the forefront of this integration movement.
Plaid, renowned for its extensive suite of financial service integrations, has expanded its portfolio to include Plaid crypto API services. This move allows apps to connect crypto data with financial platforms, widening Plaid's reach into the crypto universe.
On the flip side, there's Vezgo, a company that has strategically focused on creating a specialized crypto API, tailored to navigate the unique complexities and demands of the web3 space.
In this blog post, we will delve into a detailed comparison between Vezgo and Plaid crypto API. We'll explore Plaid's broader financial offerings and how they measure up against Vezgo's dedicated crypto API services.
If you're considering which API service can best cater to your crypto integration needs, or you're simply interested in understanding the nuances of crypto API integration, this post will serve as a valuable resource.
So, let's dive in and uncover the intricacies of Vezgo and Plaid crypto APIs.
Plaid Crypto API
Over the years, Plaid has established itself as an industry leader in the field of digital financial services. Through their robust suite of tools and services, they have excelled in integrating traditional financial accounts, supporting a plethora of fintech apps, and providing a seamless data portability experience.
With the emergence of cryptocurrencies and the associated demand for interoperability, Plaid has taken steps to align its offerings to the needs of the crypto space.
Wallet Onboard
The cornerstone of Plaid's entrance into the world of crypto is their 'Wallet Onboard' initiative. Designed to address the challenges that consumers and developers often encounter while interacting with a multitude of crypto wallets, Wallet Onboard proposes a unified, secure, and efficient mechanism for linking crypto wallets with Web3 applications.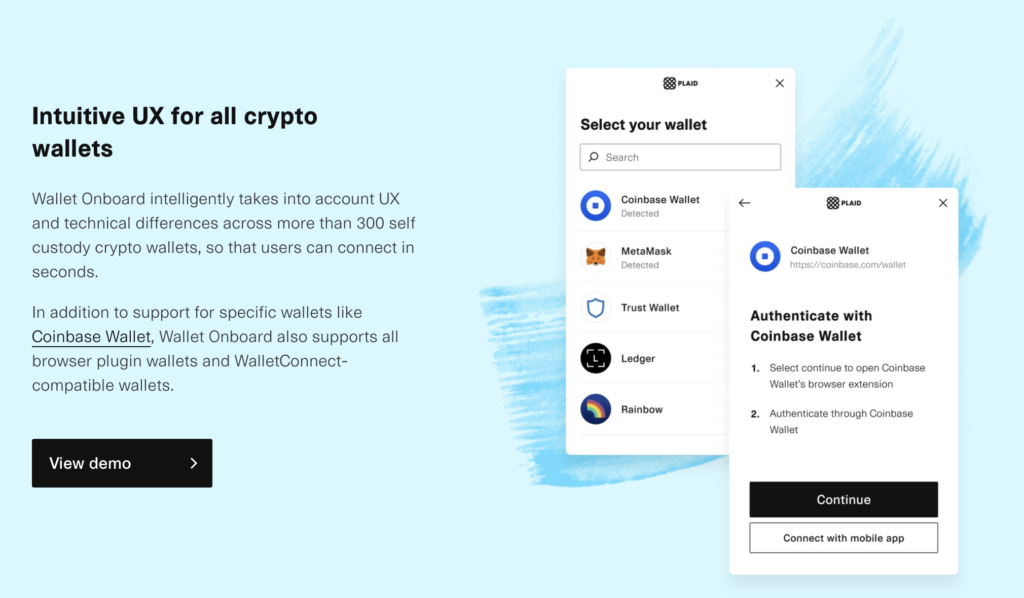 The Wallet Onboard system enables developers to link over 300 self-custody crypto wallets via a single integration. Relying on the trusted user interface of Plaid Link, Plaid crypto aims to streamline the wallet-linking experience for consumers. From a developer's perspective, Wallet Onboard eliminates the need for constant vigilance and adjustments to individual wallet connections through automated updates and optimizations.
While Plaid crypto's Wallet Onboard initiative provides a unified and efficient mechanism for linking crypto wallets with Web3 applications, it's important to note that the current implementation does not include integration with read-only blockchain data.
This limitation in Plaid crypto implies that developers and users may not have access to real-time blockchain data, such as account balances, transaction histories, or smart contract interactions.
Centralized Exchanges Integration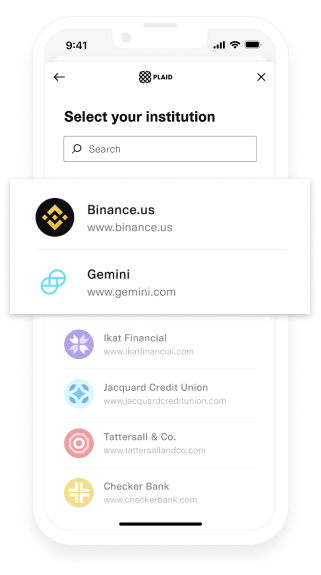 Complementing Wallet Onboard, Plaid crypto has integrated prominent digital asset exchanges into its vast network to facilitate the sharing of crypto account information securely. These exchanges include industry leaders such as Gemini, Binance, and Coinbase.
It's worth noting that Plaid crypto's integration with centralized exchanges primarily focuses on prominent digital asset exchanges within the United States, which may result in a limited worldwide coverage of exchange integration. While exchanges like Gemini, Binance, and Coinbase offer extensive services and user bases, the global cryptocurrency ecosystem extends far beyond these platforms.
Through these integrations, Plaid crypto API has made strides towards web3 data portability, thereby contributing to a more inclusive financial picture for users.
Although Plaid's foray into the crypto world demonstrates a commendable effort to incorporate blockchain technology into its product suite, the limitations of the Plaid crypto offerings warrant recognition.
A Closer Look at the Limitation of the Plaid Crypto Coverage and Focus
Despite Plaid's initiatives in crypto integration, their offering presents limitations that may pose challenges to extensive adoption in the crypto space.
The current support for digital asset exchanges is confined to a select few exchanges and doesn't offer integrations to blockchains.
As such, developers seeking to harness Plaid's wallet integration would need to construct their own connectors to different blockchains, adding another layer of complexity to the integration process.
Plaid's historical emphasis and well-established expertise in banking, as reflected in their support for over 12,000 banks worldwide, seem to indicate that crypto has not been their primary focus. Therefore, the depth and extensiveness of their crypto offerings are subject to certain constraints.
While the Plaid crypto offerings – including Wallet Onboard and digital asset exchange integrations – offer promising steps towards aligning traditional finance with the world of cryptocurrencies, there are areas that could benefit from broader coverage and additional features.
It's also worth noting that the last time Plaid mentioned crypto on their blog was in October 2022. This in itself speaks to how non-core crypto is to their TradFi offerings.
Vezgo Crypto API
Unlike more conventional financial data aggregators like Plaid, Vezgo distinguishes itself by addressing only the specific challenges and intricacies of crypto data aggregation.
Vezgo's goal is to provide a single API to access and aggregate all of your customers' digital asset accounts, balances, NFTs, and transaction history.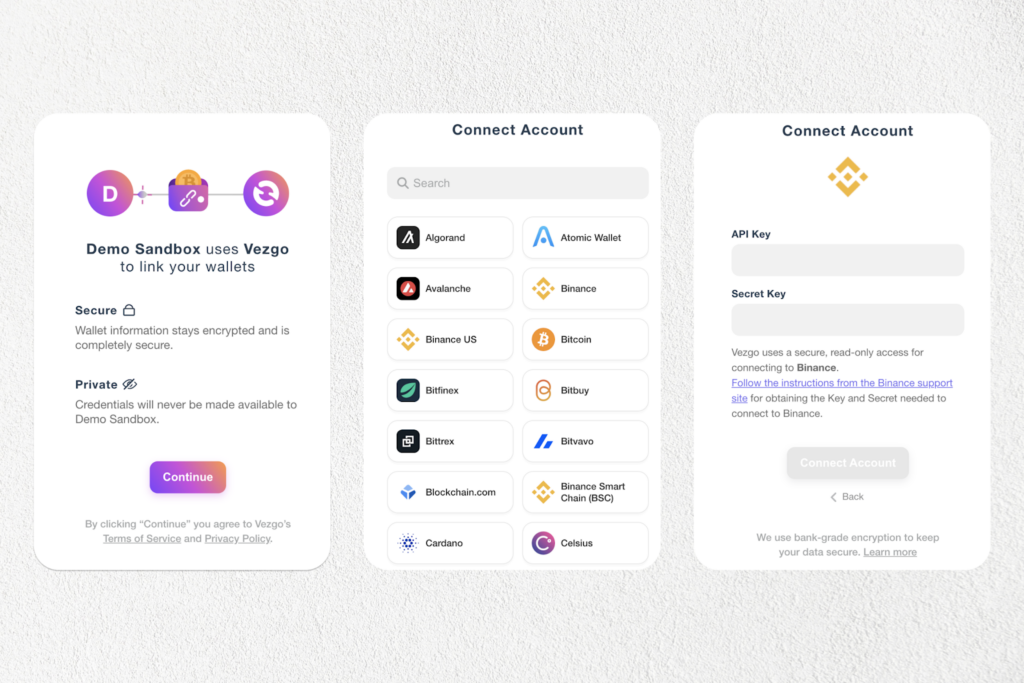 Its comprehensive functionality and extensive integration capabilities help bridge the gap in the crypto space, presenting a solution that's uniquely tailored to the needs of the growing cryptocurrency ecosystem.
Its versatility extends beyond merely serving as an exchange data aggregator, as it also facilitates comprehensive data retrieval from an impressive array of crypto wallets. This places Vezgo in a distinct position as a holistic read-only crypto solution, specializing in the domain of crypto data aggregation.
The Largest Crypto API on the Market
The API offers integration with a substantial network of crypto resources – 40 exchanges, 20 blockchains, and 250 wallets.
Vezgo API includes Wallet Connect, one of the strongest xPub, yPub, and zPub connector on the market, real-time events from Binance, internal transactions on ETH and other EVM-based chains and a customer focus that can't be found elsewhere.
At the heart of Vezgo's mission lies an unwavering commitment to customer focus. We believe in fostering a close-knit community where communication lines are always open, offering our clients unparalleled support on a day-to-day basis.
All our clients have a private Slack channel with our development team for support.
Understanding that our clients' needs shape the roadmap of our services, we've designed our operational model to align with their requests. Each enhancement, feature addition, or system optimization is aimed at delivering value to our clients, ensuring that Vezgo continues to serve as a comprehensive crypto solution.
New Provider Requests Available
We go a step further with our Enterprise Plan – a bespoke service offering that prioritizes customer requests. Subscribers to this plan are given the privilege of requesting up to 2 new provider integrations per quarter. This not only gives them the flexibility to customize the service according to their unique needs but also plays a crucial role in driving Vezgo's growth in alignment with the evolving demands of the market.
Through such initiatives, Vezgo ensures that our clients' voices are not just heard but amplified, making them active participants in our journey of financial innovation.
With its robust API, Vezgo offers developers a streamlined and efficient approach to crypto data aggregation, reducing the complexity and time associated with integrating multiple APIs.
Plaid for Banking & Vezgo for Crypto: A Comprehensive Financial API Strategy
Plaid excels at integrating banking and financial services, while Vezgo specializes in providing a comprehensive crypto solution.
While Plaid Crypto API's foray into the crypto space is commendable, based on our assessment, its current capabilities might not yet provide the breadth and depth needed by businesses aiming to fully embrace digital assets. This is where Vezgo steps in to fill the gap, providing businesses with an in-depth, wide-ranging crypto solution, perfectly complementing Plaid's offering in the traditional finance domain.
In the current climate, investing in both Plaid and Vezgo could be the most strategic decision a company can make. This combination would not only ensure a more complete coverage across both traditional and digital finance, but also future-proof a business in this rapidly transforming sector.
As such, the integration of both these APIs could be the key to unlocking unparalleled financial inclusivity and flexibility.

Want to try Vezgo? You can book a demo with our team or get API Keys and start building.
What users asked?
A: Plaid has limited support for connecting and retrieving data from Crypto Exchanges. Plaid also offers support for wallets, but does not support any blockchains. Vezgo, a crypto-focussed aggregator, has support for 350+ exchanges and wallets and is the recommended option when it comes to crypto data aggregation.
A: To get the largest bank and crypto coverage, directing investments toward both Plaid and Vezgo might be the most tactically advantageous move for a business. Such a dual investment strategy would not only guarantee comprehensive coverage over conventional finance. It would also provide the largest digital finance provider support.
A: Vezgo is the largest read-only crypto API for Wallets, Exchanges (CEXes), and Blockchains. Trough a unified API, fintechs can access the all crypto platforms, allowing their users to connect and sync their balances, positions, and transactions.