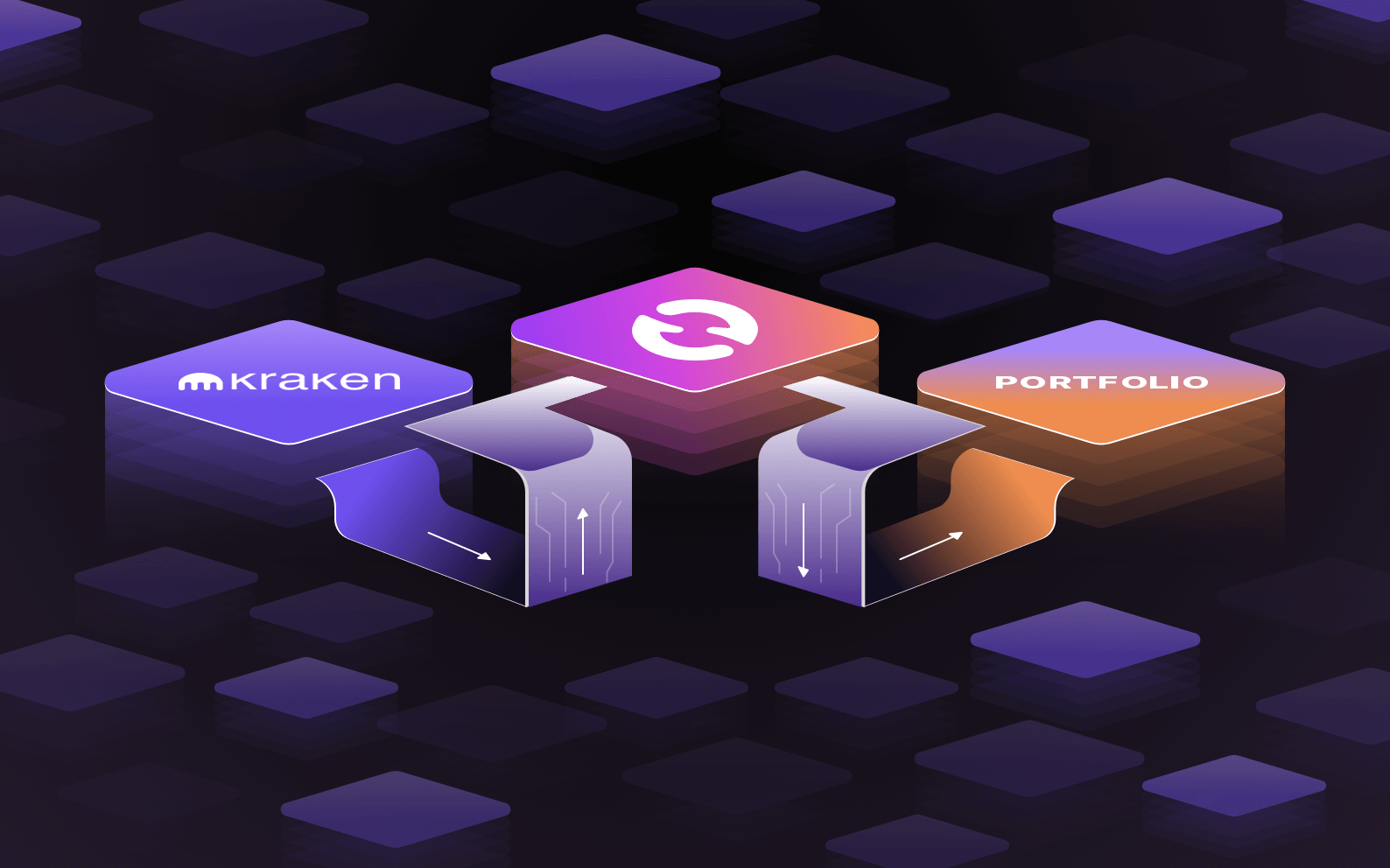 We've recently been made aware that Hatchfi, a competitor in the crypto integration platform space, will discontinue their Hatchfi Crypto API product. If you are a fintech looking for an alternative, Vezgo got you covered.
The recent announcement may have left many of you uncertain and concerned. Having to switch from a trusted platform is never an easy task, as it brings forth a multitude of challenges and disruptions. The familiarity and comfort that come with an established platform can make the prospect of change daunting. Here at Vezgo, we empathize with the situation you may find yourself in. Our main goal is to provide a seamless transition and a superior alternative to Hatchfi API.

Vezgo is not just an alternative to Hatchfi; it's a comprehensive solution designed to meet the needs of developers integrating crypto services into their applications.
Crypto adoption is expanding rapidly worldwide. The demand for users to track their cryptocurrencies scattered across various exchanges and wallets from a single location has grown significantly.
What Happened to Hatchfi?
While the specific details are unclear, we know that Hatchfi will no longer be updating its product. This discontinuation could potentially disrupt the success and survival of projects, apps, and services relying on Hatchfi's API.
Transitioning to a new API can often seem like a daunting task. It might raise concerns about potential complexities and technical challenges. At Vezgo, we have designed our system to ensure that this transition is as smooth as possible. Our API is designed to be straightforward and easy to integrate, and our team is committed to providing comprehensive documentation and support to guide you through each step of the process.
Vezgo: The Ideal Hatchfi API Alternative
Vezgo is the easiest way for people to connect any crypto exchange, wallet, account, or protocol to your app and retrieve balances, holdings, and transactions.
Most exchanges and wallets have their unique APIs. Integrating these with your app could be time-consuming, especially considering the number of exchanges alone. Fortunately, Vezgo stands apart from these.
Vezgo, as a Hatchfi alternative, uses a single API key to integrate with any crypto wallet or exchange, aggregating users' crypto holdings, balances, and transactions.
Vezgo manages the connection with various exchanges and wallets so that a single API key can aggregate portfolio data from connected crypto wallets and exchanges.
As of now, Vezgo is connected to a wide range of popular exchanges, wallets, and blockchains. More are under development, and many more are planned, showing our commitment to continual improvement and growth.
What This Hatchfi API Alternative Means For You
The Vezgo API paves the way for a new world of crypto portfolio tracking. As a Hatchfi alternative, Vezgo not only does everything that Hatchfi's API did but also takes things further.
You can rely on Vezgo's exchange and wallet data aggregator API to build:
Tax monitoring apps
Crypto portfolio tracking apps
Defi apps
Wealth Management apps
API Bundle apps
Aggregation apps
And so much more!
Our clients' creativity continues to shape new ways to utilize this versatile API.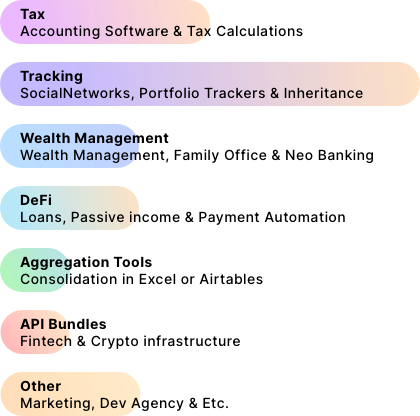 Why Use Vezgo Crypto API For Your Integrations?
Our clients enjoy:
One API for Every Crypto Exchange and Wallet Integration
With just one Vezgo API key, you can handle all your exchange, wallet, and Defi integrations. This innovation means you only need to do the integration once to get clients' portfolio data from across all cryptocurrency wallets and exchanges.
Vezgo currently integrates with more than 40 CEXes, 20 blockchains, and 220 wallets.
Standardized Data Set for Seamless Integration
One issue with other APIs is the lack of standardized data. The Vezgo crypto wallet API solves this problem by arranging the gathered data in a standardized format that aids integration. This means your data comes ready to use, and developers do not need to waste time and resources cleaning and normalizing data.
Easy Scaling
Vezgo is designed to grow with your business. We're continuously adding to our list of supported exchanges, wallets, and blockchains, always staying one step ahead of your scaling needs.
Safety
At Vezgo, we prioritize the safety of your data. We are SOC 2 Type II certified and have been dealing with Banks through Wealthica since 2015. We employ industry-standard security measures to ensure the data we transit from your users' holdings to your app is fully encrypted.
The Vezgo Effect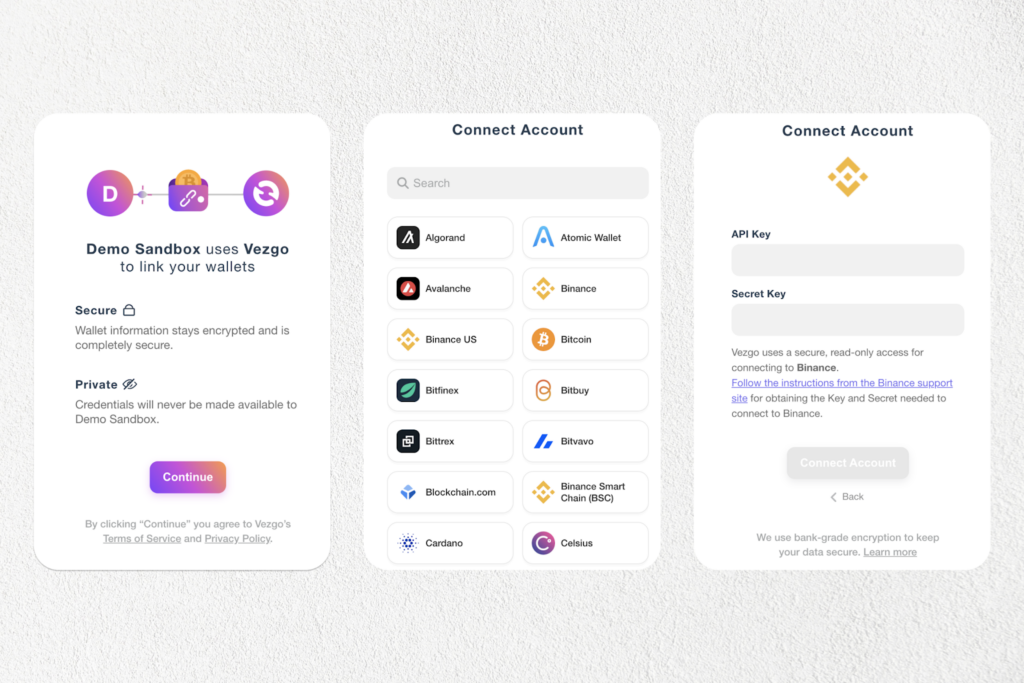 We're proud of what we've built with Vezgo, and we're excited about what it means for our users. Vezgo promises seamless across-the-board crypto wallet and exchange integration, providing your clients a connection in a way they've never experienced through your app.
We believe that support is a fundamental part of any service. That's why we've set up a private Slack channel for all our clients. This channel allows you to directly connect with our team, ask questions, share your experiences, and get prompt assistance whenever you need it. It also provides an opportunity to learn from other Vezgo users who are experiencing the same journey as you.
We're committed to standing by you every step of the way as you transition to Vezgo!
To get started, simply follow this link to obtain your unique Vezgo API key.